[box color="black" icon="information"]
If you have not listened to Har Zulm by Sajjad Ali already, listen to it now at the link below:
[/box]
Sajjad Ali has proved himself once again with such an amazing song. The song "Har Zulm" was uploaded on the Official Facebook page of Sajjad Ali and within few hours of its release, it has gathered more than 4,000 likes, 2,000 comments and a record of 7,000+ shares.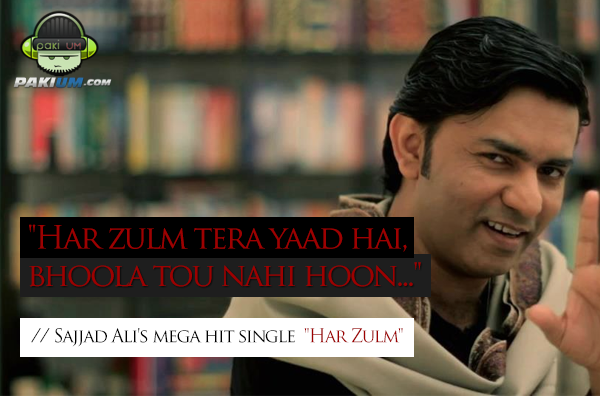 Although some hip-hop lover teen might not be interested in the song, this song is for persons of every age, worth mentioning, even my grandmother likes it. Video, music, lyrics and style have a common feature of simplicity which unites them all resulting in a masterpiece.
The lyrics are by the Poet Aftab Muztar. The lyrics are deep, every word providing a meaning in itself. The lyrics being broad allows every person to relate to them, one commentator mentioning the song as 'close to everyone hearts'. The music goes on in one single peaceful flow; the melodious voice of Sajjad Ali adds magic to it. The video is simple yet elegant. It features three people; Sajjad Ali, his son and a foreign guitarist. Sajjad Ali gives his worth-to-die-for smile many times in the video.
The keyboard player in the video is the son of Sajjad Ali. This seems to be the start of his career. Let's hope he too becomes a shining star for the Country like his father.
Sajjad Ali is one of the talent who has maintained his class over the time and has a huge fan following. He was recently also seen on the famous talent show – Sur Kshetra. Successfully, he wins hearts of many. Such an asset he is for the Country. He moved to Dubai few years ago. We hope that situation in Pakistan gets better and he settles back to Pakistan.
The song is available to download on itunes for $0.99 – Check out below the complete song lyrics:
[quote type="medium" align="center"] Sahil pe kharay ho, tumhein kya ghum chalay jana.
Main doob raha hoon, abhi dooba tou nahi hoon.
Aey wada faramosh, main tujh sa tou nahi hun.
Har zulm tera yaad hai, bhoola tou nahi hoon.
Chup chaap sahi maslehatan waqt ke hathoun,
majboor sahi waqt se hara tou nahi hoon.
Aey wada faramoosh mein tujh sa tou nahi hoon.
Mustar kyun mujhe dekhta rehta hai zamana,
deewana sahi unn ka tamasha tou nahi hoon.
Har zulm tera yaad hai, bhoola tou nahi hoon.
Har zulm tera yaad hai, bhoola tou nahi hoon. [/quote]
Author Info : Adil Mirza works at Just Solved and can be found on Twitter at @gandisoch