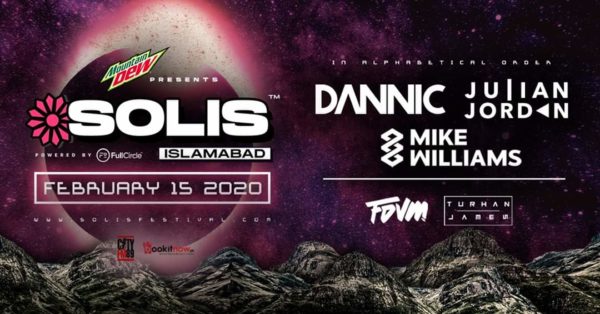 Mountain Dew Solis is back with a bang and some beats! This time the epic festival touches down in the heart of Pakistan, the country's very own capital city, Islamabad. There are several acts from across the world performing live in action to fulfill all your festival cravings.
Headlined by Dannic, Julian Jordan, Mike Williams along with performances by fan-favorite artists such as FDVM, Turhan James and many more! A once in a lifetime experience to remember. Each act is sure to get you going, with heart pumping beats, so don't forget to bring your dance shoes this weekend at Pakistan National Council of Arts, Islamabad.
Last year Mountain Dew hosted the most epic festival of the year in Karachi, Lahore and Islamabad. For 2020 they're making their dynamic return in Islamabad, setting a precedent for music festivals around the globe. The event will be held on 15th of February with the most incredible sounds EDM has to offer. Mountain Dew Solis 2020 will provide an immersive experience unlike any other. A night of lights, music and all good vibes you can imagine. Pump your dew bottles in the air and get ready for an experience you'll remember for a lifetime.
What an incredible way for Pakistan to highlight itself as a country which welcomes foreign talents. Reflecting how we are open to having foreign artists sharing their passions with us. Furthermore, it projects a positive image of our country as being receptive to international exposure.
Head on over this weekend and catch all the action, LIVE. Don't miss all the artists in their element, at the peak of their creative expression and opportunity to build a community with likeminded people who follow their passion. The adrenaline-music festival will provide the audience with the highest quality sounds ith pumped up beats and bass drops that will get you roaring along with the crowd. Get ready to sing along to your favorite songs and join us for the most fun filled Saturday of the season!