Venues as platforms: Underground can surface
With places like Base Rock Café and T2F, underground musicians now have a chance to start building on a fan base. Instep takes a closer look at the growing culture of gigs  at small venues featuring underground musicians…

Manal Faheem Khan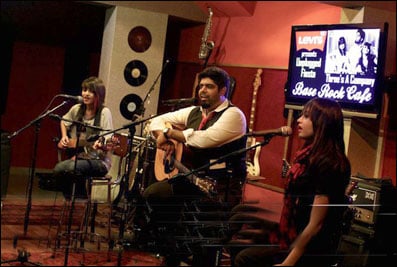 Perhaps the music industry is the one facing the most pressure and setbacks because of the prevailing security situation in our country: there are fewer concerts, musicians are having trouble making their way into mainstream television, and there is too much risk and fear involved when it comes to producing good musical events.
However, Pakistan is bursting with talent. With the upcoming generation, there are hundreds of guitarists and singers, who can perhaps give our professionals a run for their money any day. But where does this talent go? How does one the balance the equation of demand versus supply?
Previously, when any musician or band decided to have a 'jam session', they would be held very privately, without anyone knowing about them, perhaps at someone's residence, inviting only a few friends and acquaintances. If someone decided to find a public location to keep such a musical evening, it would become a proper 'concert' as the musicians would have to deal with finances and then the security.
Now, we have places like Base Rock Café and T2F (The Second Floor); two popular hangout joints in Karachi, which have now become the saviours for music. While the two places cater to two extremely different markets, they both still have one characteristic in common: they promote underground talent.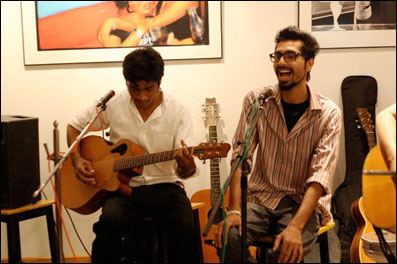 T2F is more art oriented, and that can be shown even in the kind of musicians and the audience that turn up to make use of this facility. For instance, one such a band that comes to mind is Bell, which has only recently gotten the chance to achieve some recognition for their work. They first came into the limelight when they performed alongside Zoe Viccaji and violinist William Harvey.
Their music was bound to be appreciated as it was perhaps a different genre altogether. As they claim on their Facebook page, they play "everything but rock". Their smooth and mellow performance made them a hit with In the Loop a radio show hosted by Adnan Malik and Munizeh Sanai, and that gave them a chance to address a larger audience.
Base Rock Café is a place which promotes music of different kind: even though it is usually linked to more 'rock-ish' acts, BRC has also seen many sufi musicians as well. One such sufi music act is a band called Positive, and they have made the crowds wild with simply one powerful performance, to the point that they are being considered the next 'Junoon' of Pakistan, if given the break which they truly deserve.
Another eccentricity that BRC has had the honour of promoting is a band called Three's a Company. The band consists of two girls, who are both vocalists, and one guitarist (and we though the Cheapmunks were the only young female musicians around, who also coincidentally got their platform at the BRC) Unfortunately, nobody has had the chance to hear these talented young girls before except people who are regular visitors of the café.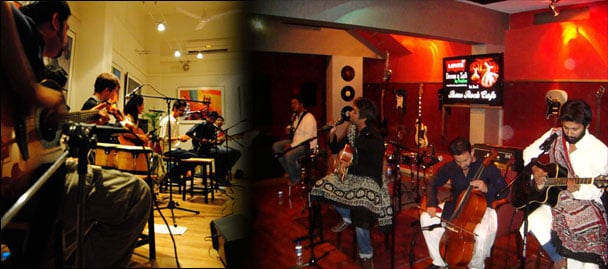 Also rocking out to the tunes of John Lennon and the Beatles is a band call Esharp, which has recently become a popular hit amongst the underground crowd. They have had the opportunity to perform more than once at BRC, and have been branded by the owners and the organizers as the next big thing, if they make it to the mainstream.
Speaking to the owners who run this place, Sameea Zafar lets us know how easy it is to approach them. "There is no money involved; we don't have a commercial objective. Bands can simply approach us and we'll check them out once before we start promoting them. Not only do we help them with their marketing, but we also provide them with everything that they'll need."
BRC supplies it's performer with state of the art equipment at no cost whatsoever. Musicians don't have to worry about anything other than bringing their guitars. Also, BRC spends time creating pre-event hype along with the band themselves. Then they even help them post-event promotion, which can include anything from pictures of the event, to videos and links of their performances.
A place like this must definitely have some security concerns. Not according to the owners. "We have the element of respect for others; therefore we try not to offend anyone with what we do. For instance, no illegal substances are allowed inside the café, even smoking isn't allowed. We don't want to give an opportunity to the parents or the general society to consider the place as something which is spoiling their youth." Not only that, but normal performances are finished by 12 a.m and the café shuts down then.
How do these people run the place then if they are not making any profits? "We love music, so we do this as a hobby. Sometimes people will rent out the place for private karaoke gigs or birthday parties, and we'll manage the finances that way. But our aim is to maintain a place, with good quality equipment and sound system and a comfortable environment for underground musicians.
With a place like Base Rock Café, who needs a commercial outlet? The sound system at BRC is perhaps one of the best in the country, and they provide the musicians with everything: from sound technicians to even an in house drum-set. Also, with such an unusual attitude from the owners and organizers of the place, where they run the place for the sole purpose of promoting some really good musicians who otherwise won't get that big break which everyone needs.
Source : Instep Magzine