Ali in wonderland
Ali Zafar may be in magical Bollywood, but starstruck he is not. His head is firmly on his shoulders and he's making all the right moves
By Usman Ghafoor
Instep: Bollywood is said to be a wonderland. How has your experience been so far, especially shooting in YashRaj Studios whose grandeur is fabled?

Ali Zafar: My experience has been superb. YashRaj Studios is truly magnificent. It's also a place with a great work environment. Yash Chopra himself is a very down to earth person; he has no hangups and can be found dining at the same cafeteria where the film crews have their meals. Every time I run into him, he greets me nicely and asks me if I am comfortable. We've been shooting for a song at YashRaj, but we've also shot on locations in and out of Mumbai.

Instep: Does your visa permit you to move easily between cities?

AZ: I've a multiple visa for cities where I am required to shoot; for instance, Delhi and Mumbai. So there's been no problem.

Instep: Seems like you've fully committed yourself to films in India. Has music taken a back seat for now?
AZ: Well, film toh karni hai; it's such a big thing! But I'll be doing music also, although the pop music industry of Pakistan is not doing too well these days. I'm also giving playback to my own songs in the film.

Instep: Do you work on the precondition that you will be singing your own songs?

AZ: See, the songs that are picturised on me should ideally be sung by me. I mean, for my fans, me lipsynching to Sonu Nigam or anybody else would not be acceptable. Secondly, because I am a singer also, I think it will look odd.

Instep: Have you hired an agent in India?

AZ: Yes, I've got an entire team that comprises a PR agent, an agent for films and another for shows and endorsements.

Instep: How do they work like? Are they on your payroll?

AZ: Some people work on percentages, some on payroll.

Instep: Did you make sure that the person you were going to hire was very active and had a deep penetration in the film industry etc?

AZ: Well, my PR agent Rohini has previously worked for Salman Khan, Katrina Kaif and Kareena Kapoor.
Instep: Is she very expensive?

AZ: I think her price is quite reasonable. Actually, in Bollywood, it's very important to stay in the news, because there are so many stars around and so many events happening. That makes a PR agent's presence mandatory. Her job is to give out soundbytes to different publications and media outlets and organise interviews. For instance, this time when I reached Mumbai, Rohini had lined up interviews which I was supposed to give in a single day's time. It saved a lot of hassle, because during shootings you don't want to be distracted.

Instep: Do you work with such a team of agents/consultants in Pakistan also?
AZ: See, in Pakistan, the media still hasn't got used to the role of a publicist, especially when it comes to the showbiz people. The media would rather have me speak to them directly, without having to go through an agent.
Instep: How much leeway do you give to your PR team and how much prompting do you do?
AZ: We discuss things. For instance, when I was going to sign on Mere Brother Ki Dulhan, Rohini suggested that we break the news first. And I trusted her.
Instep: In India, film journalism is dominated by a kind of a paparazzi culture. Where does that leave the PR agent?
AZ: The PR agent's job is to keep a check [on the media] and to try to regulate any news going out. Rohini is well reputed in media circles in India, and she enjoys a great rapport with them. All this helps.
Instep: But, do you realise that the word about you being signed on by YashRaj had trickled out much before you made it official?
AZ: Yes, that did happen
and it shocked me, because I wanted this news to be out only after I had formally signed on the film.
Instep: What about the rumour about you shifting base to Mumbai?
AZ: I don't know why people should take things to extremes. I am an actor, so wherever in the world my acting job takes me I shall have to go and put up till I am done.
Instep: But there have been people like Adnan Sami who chose to settle in India for good.
AZ: I've always maintained that Pakistan is my home.
Instep: Let's get this straight: you are an 'outsider' in Bollywood, and no one wants an outsider to invade their territory. Did you ever get such vibes/feelers from any quarters?
AZ: I strongly believe that as long as I am contributing to their industry and earning them big bucks, they shouldn't have such issues.
Instep: Are they ready to give you covers on glossies and hail you as the next big thing?
AZ: See, Bollywood is a huge industry and it has evolved to an extent where its people need not feel threatened. They are focused on work. Yes, certainly, they like to put India 'first', which is not a negative trait. That's how every nation should think.
As for magazine covers, I'm sure they will come along; abhi toh ek hi film aayi hai!
Instep: Tell us a bit about your role in Mere Brother Ki Dulhan.
AZ: Well, the film is a romantic comedy and I have a fun role in it alongside Katrina Kaif, Imran Khan and a new girl.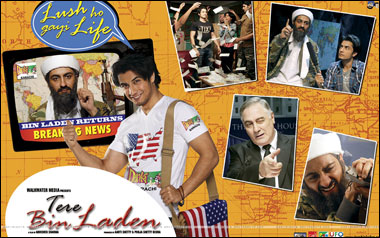 Instep: You've always made very smart choices and worked with the right people on the right projects. So, naturally, one is bound to think that if you picked this movie out of a horde of offers that you got after Tere Bin Laden, there must be a competent reason behind it.
AZ: Well, after TBL, I wanted to do a 'typical' Bollywood film which had lots of songs and dances etc, a film that would not be a social satire or an intellectual and artistic exercise. Even though TBL was a huge success — it did a business of about IR 23 crore — I expect a film like Mere Brother… to have greater mass appeal.
Instep: Do you have the satisfaction that you accepted a project/role that should only take your stocks higher?
AZ: Of course, I do. Let me tell you, I didn't sign on MBKD in an instant. I took my time. I was regularly in touch with Aditya Chopra, and finally when I met him [sometime in August this year], I told him frankly that my role in the film had better be on par with that of the rest of the lead cast.
Instep: So, you have no insecurities that your role could be chopped at the editing table or that you may be overshadowed by your costars who are, after all, bigger entities in Bollywood?
AZ: I know my strengths and weaknesses. Period.
Instep: But a film isn't entirely in the actor's hands.
AZ: Sure there are things that aren't in my control, but so far, I am happy with whatever we have shot.
Instep: You play a Hindu boy named Luv. Was that ever a cause of concern?
AZ: No, not at all; it's just a fictitious character and I am just acting.
Instep: Have you signed on any other film?
AZ: There are a couple of projects I am considering, and I have verbally agreed to one of them.
Instep: Any interesting offers?
AZ: You know, half the scripts that have come to me have me as a singer or a rock star (grins)! Anyway, I definitely see myself doing two or three films back-to-back in the near future.
Instep: Do you understand that TBL's massive coverage in international media was not due to you or its director as much as it was because of the film's subject matter?
AZ: Yes, I do. But then it was part of our marketing strategy to not present/launch me as 'a superstar from Pakistan' or something. We wanted the basic concept of TBL to become the star. And, anyway, I don't claim credit for the film's success. I believe the film would have worked with any other actor with reasonable credentials.
Instep: People in India know you primarily as an actor rather than as a singer. Does that make the musician in you a little wary?
AZ: In India, pop singers or albums do not make it big. That's because the market is ruled by the giant called Bollywood. It doesn't make me wary or anything because, in any case, I am not going to give up on music. My new album, titled Jhoom, is very close to my heart and I plan to release it end of this year. I have also decided that the money from the sales would be given for the relief of flood victims.
— Photo by Fuzzal Ahmad
Source : Instep News