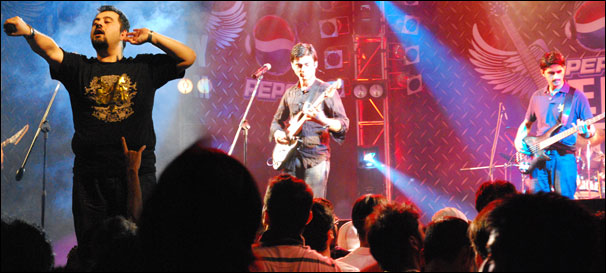 From their powerhouse music to strong vocals and intense lyrics, EP really knew how to drive concerts into a loud, frantic, head-banging frenzy back in the day. When they broke up after delivering the hugely popular album Irtiqa, they left a trail of disappointed fans eager for more. Seven years later, EP has decided to regroup with two members less. The band now consists of Fawad Khan on rhythm guitar and vocals, Ahmed Ali Butt on the keyboard and vocals, Hassaan Khalid on bass, Salman Albert on lead guitar and Waqar Khan on the drums. Instep met up with the newly configured band a day after their Aazadi concert in Karachi…
Instep: What made the five of you decide to revive EP again?
Hassaan Khalid: Even after EP disbanded, we were all still in touch with each other. Ahmed was part of a new band called Rubberband and was working on different TV projects. Fawad was modeling and working on his solo album and had acted in a movie and on TV. Waqar and Salman were session players for different bands. I was studying in the UK for my MBA degree. Even though we were doing other things, we still had EP in our minds and once we were all in the same city, we discussed things out and finally decided to get the band back together. We're all still working on other projects but EP is our first priority.
Instep: EP broke up earlier due to individual differences. How are you going to get past them now?
Fawad Khan: This time we have discussed everything at length. Earlier, sometimes decisions would be made without consulting half the band members. That's when the conflicts arose. A time came when we couldn't even sit together to discuss matters, much less work on a new album. Now, we try to legalize and document everything. More importantly, all decisions are now based on mutual consent. Every member of EP has a say and if we don't agree on something, we keep hashing it out between us until a decision is reached!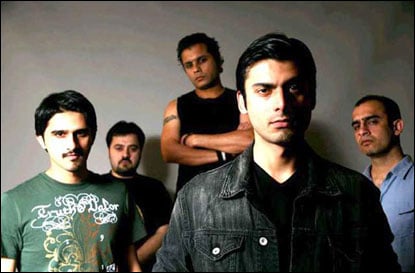 Instep: What has the response to your comeback been like?
Waqar Khan: It has been amazing. I honestly hadn't expected such an enthusiastic response. Our first concert was in March this year at LUMS and from the first song on, everybody was singing along.
Fawad: In fact, I think our fan following has increased. In the interim period while EP had disbanded, we all worked on different projects. Ahmed had his work on television and his band, Rubberband. I acted in a movie and modeled and acted on TV. I think we became more well-known. When EP regrouped, more people knew about us and were curious to know what we sounded like.
Instep: Your teenage fans must have grown up. Do you think you'll miss out on that popularity?
Fawad: We can't tell for sure. Let's see when the album comes out.
Waqar: Our old fans are still there, though they may not be teenagers any more. Maybe there are fewer kids in the audience now.
Ahmed Ali Butt: No, no, they're all still there. You can't tell Waqar, because you're right in the back with your drums!
Instep: Judging from the present situation in Pakistan, do you feel that a career in music is unreliable?
Fawad: It is very unreliable. Not only is the economy unstable, concerts are few and far in between because of the constant fear of terrorism. We all have back-up careers. I moonlight between acting, modeling and composing jingles for advertisements. Ahmed acts, directs, produces and models. Hassaan runs a student-based magazine called Student Blog which goes out to 60 campuses in Pakistan, he is manager of communications for the Service Sales Corporation and also runs a consultancy for students wishing to study abroad. Waqar works at Telenor and Salman sessions for a number of bands.
Instep: What's the difference between EP then and now?
Ahmed: When we started out, we were friends having fun together and making music. But once money got involved, we realized our potential and are now going about things in a more methodical way.
Waqar: Also, while we were apart, we learnt more about music. We are more mature in our field now and our sound is more diverse.
Instep: Would you consider fusing your music with folk tunes, a la Coke Studio?
Fawad: Why not? In our upcoming album, we plan to incorporate ethnic percussions and instruments in our music.
Ahmed: What I don't like about Coke Studio is that all the artistes in it are trying to sound like classical singers. If you're a pop singer, you should stay that way. If I used folk music in an EP song, I would do it my way, without changing my sound drastically.
Instep: Do you feel that it is important for a band to gain recognition in India in order to make it big in Pakistan?
Ahmed: Maybe it is important for a band that is insecure about its fan base in Pakistan. Thankfully, EP has a strong fan-following, so I wouldn't regard going into Bollywood crucial for us.
Instep: When is the new album coming out?
Waqar: The album's going to take some time but we hope to release our first video sometime around Eid.
Instep: With the release of just one album in seven years, you still have loyal fans. What do you think makes EP stand out?
Fawad: I think our band sends out a sense of optimisim. Even though Pakistan is going through a difficult time, we decided to make a comeback. It shows that we aren't afraid of taking on challenges.
Ahmed: EP is probably the loudest band in Pakistan. Except for a few TV appearances, we have always performed live in concerts. We put so much effort into our concerts and it shows. Where else in Pakistan do you see the whole band head banging along with the crowd? Sometimes, we bump our heads into our guitars in the process, but our fans are worth it!
— Fawad, Ahmed and Waqar were talking to
Maliha Rehman
Source : INSTEP NEWS